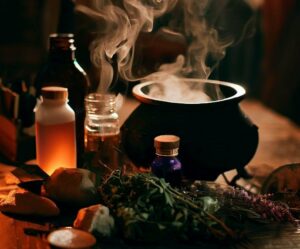 Making your own oils rather than popping down to the local botanica, witch shop, or from a seller online is very empowering both magically and for a sense of personal accomplishment. Not to mention, it's a whole lot more cost-effective, too!
Join us at ReAlive Metaphysical Shop to learn how to empower yourself by making your very own magical oils and brews for a variety of purposes with Christina. Class participants will be making a magical oil for anointing candles, ritual tools, or even themselves.
This is the first in the Home Brewed Magic Series that will be held at ReAlive for 2023.
The cost of the class is $25, which will include all of the materials and hands-on experience you will need to start making your own magic!  The class size is limited, so stop by ReAlive or call Christina at (319) 821-0078 to reserve your spot today.